Skip Navigation
Website Accessibility
August 2022 Newsletter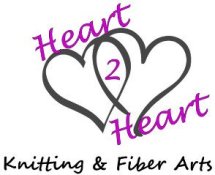 Happy August Friends!
How has your summer been? I feel like summer started late this year. Maybe because the sun didn't really show up until late in July! Well at least it made a showing this year!

There is a lot that will be happening at Heart2Heart this month. August 17 is our 3rd year anniversary! I am still in awe! 3 years! A huge thank you to all our customers for making this happen!
Let's say HOORAY as we start on year 4!

Since our celebration is upon us, we will be having some fun this month! Just keep on reading to find out more!

School days are upon us as well. Since Julia & I both have kiddos in school, we will be hopping this year.
There are during school activites, after school activities, parks and recs activities....with lots of children betwteen the two of us, we have many places to go, and yes, sometimes like we feel like we should put a running meter in our vehicles!
At least we have our knitting to keep up busy while we sit and wait!

On that note, please be aware that there may be some unexpected closures at times. We do our best to keep our homes and families running, but there are times that we, as mom taxis, need to hop out to get the kiddos once in a very great while. We do our best to keep any unexpected shop closure to a very bare minimum, but sometimes, it just must be done! Thank you ALL in advance for understanding if it needs to happen!

So, read on...we have some fun coming this month!
Stay safe, and happy crafting!
Lisa & Julia

---
September KAL: Tin Can Knits Love Note
Join us September 6th as we cast on the ever loving LOVE NOTE, by Tin Can Knits.
Necessities:
Pattern (available on Ravelry at
https://ravel.me/love-note
)
Yarn-Fingering + Lace/Mohair = Dk
or
any DK weight yarn (your choice)
Knitting Needles Size 7 & 10
Stitch Markers
This sweet little sweater knits up quickly from the top down. The combination of mohair lace and single-ply merino creates a fabric that is floaty, soft and sensual. With a high-low hemline and two length options, what's not to love?


---
August 19-21st
Anniversary Celebration!

is coming to Heart2Heart for a Trunk Show!
We are celebrating our 3rd year of business and to help us, we welcome this amazing trunk show.
Serial Dyhouse has some amazing colorways & bases.




These are just a few of their wonderful colors.
Serial Knitters Underground
Dyhouse
August 19-21st
Heart2Heart Knitting & Fiber Arts is hosting Serial Knitters Underground Dyehouse
(spread the word)
---

Help us celebrate our birthday! During the week August 16-21
Heart2Heart will have drawings, gifts and specials to celebrate our 3 years in business.

Your

reciept

gets you entered into the grand prize drawing , plus we will spin the wheel every
two hours for fun give aways. (do not need to be present to win)


All YOU need to do is SHOP! Your receipt is your ticket to the fun!




Join us for some great specials and LOTS of FUN!



---

---

---

---
Building in Color
Will meet August
7th

at 2 PM &
August
9th

at 11:30 AM

We will be starting panel #7.


Have your cast on ready to go before class

.
Pick your day, see you there!
September Dates will be: September 11th & 13th.
(change of days due to the holiday closure)
---
Upcoming Shop Closures
Mark your Calendars...

Thursday September 1st-Sunday September 4th: Shop Closed

Julia's husband, Jimmy will be retiring from the Navy on September 1st.
In honor of Jimmy's service and retirement, Heart2Heart will be
closing the shop that day.

We then fall into Labor Day weekend.
We have decided to take a short vacation September 2-4th.
Heart2Heart will reopen on Tuesday, September 6th
with normal business hours 11 AM-7 PM.

---


UFO Summer Game-Still Going!


Get in on the FUN


Send an email with your number of UFO's (un-finished objects), along with a list of what they are. Every project you finish over this summer, bring it in or post to our Facebook Group.
For each one, your name will be entered into a drawing for a $75.00 gift card!
End date will be August 17, 2022.

---


Upcoming Events
September:
Bigfoot Yarns Trunk Show: Sept. 9-11

Trilogy Yarns Trunk Show: Sept. 30-Oct.2
---
Now Hiring
Part Time Sales Associate

Heart2Heart Knitting & Fiber Arts is looking for an energetic, enthusiastic, flexible person to fill the role of
Sales Associate on a part time basis.

This person will work primarily afternoons and weekends, with an occasional morning shift as needed.
Hours will be 15-20 hours a month.
Pay rate will be $15.00 an hour plus an employee discount on all products.
Applicant must have knowledge of knitting & crocheting;
have knowledge of yarn bases & weights;
enjoy helping people with their projects;
be able to lift up to 50 lbs.;
willingness to learn & work well with others.

If you fit this bill and are interested in applying, please email Lisa at heart2heartknitting@gmail.com

No phone calls please
---


Heart2Heart Knitting & Fiber Arts
19735 10th Ave. NE S102
Poulsbo, WA 98370

www.heart2heartknittingfiberarts.com