Skip Navigation
Website Accessibility
September 2022 Newsletter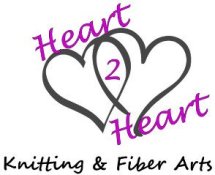 Welcome to September
The end of the summer is always so bittersweet for me. Even though I have lived in Washington for my entire life, I still cannot get used to the changes this time of year brings. I love living in my flip flops, but I love to cuddle on the couch with a hot cup of tea and my knitting even more!

September brings back routine.
School is back...routine. Extra curricular activities & sport schedules are back...routine. I have learned to love schedule & routine in my life. I love feeling balanced. I love the focus a routine can bring.
I also love to feel the new energy a routine can bring.
For me, the fall season brings warmth to my life. Amid all the summer chaos & fun, I am ready to welcome fall.

Speaking of NEW energy, Heart2Heart has a new staff member on our team!

Also, because we now have a new staff member,
Heart2Heart WILL BE OPEN ON THURSDAY, SEPTEMBER 1st.
As fall starts to creep in and the weather starts to change, we find ourselves changing courses on our projects. We have you covered. Heart2Heart has new fall yarns starting to come in. Watch for them as September starts to creep in.

Looking forward to your next visit!
Lisa
---


Say hello to Cindy Jauregui. She is the newest staff member of Heart2Heart Knitting.

Cindy loves to knit & crochet. She has been a fiber enthusiast for about 15 years. She moved to Poulsbo 3 years ago with her husband, Ryan and daughter, Aria.
You will find she is very enthusiastic and loves to help and is also great at helping choose colors and patterns that will work for you.
She is a great addition to our staff.
Next time your in, say hello!

Welcome to Heart2Heart, Cindy!

---

Mariners Stitch n Pitch




September 6th




First pitch is 6:40 PM



Heart2Heart pre-sold 24 tickets to this years


2022 Mariners Stitch n Pitch

.
What is it you ask?


Well...you bring you knitting/crochet project, you watch the baseball game, you have fun! That's it!


If you have not gotten your ticket yet, call as soon as you can. We can still get tickets up to 1 week before the game.
If you have purchased a ticket through Heart2Heart, you will receive them by email from heart2heartknitting@gmail.com, in a digitized format.
Bring your phone with your emailed ticket.


This is your way in.



All bags must be stadium approved bags.
That means a project bag no larger than 12x12x6, and clear.
We have a few left available for sale at the shop.


(Clearly knitters & crocheters did not make that bag rule, lol).
If you do bring a non see through bag, please know your bags will be searched.



Outside food

is permitted in single-serving sizes. Sealed, clear plastic water bottles up to 32oz, baby bottles, beverages related to medical needs, and unopened, soft-sided single serve containers like juice boxes are permitted. Soda, coffee or other beverages are not allowed. Guests may also bring in one empty plastic or reusable bottle 32 ounces or smaller.
Transportation:

All transportation is on your own.

Seating:

We are seated in Section 143 and have 2 rows of 12 seats together as a group. (more if needed)
Any questions, please give us a call at the shop.
360-930-8578
---


A special shout out to
Jimmy Trogden

, Julia's husband.
Jimmy is retiring from the Navy after 24 years as an
04 Lieutenant Commander.

Thank You for your service, Jimmy!
---
Shop Schedule

Heart2Heart

WILL BE OPEN

ON THURSDAY, SEPTEMBER 1st.
Friday, September 2-5: Shop Closed for the Labor Day Holiday
---


Congratulations to our UFO Winner, Jana

Schiewe

.

Jana finished 11 UFO's from June to August 17th!
Way to go Jana!
---
Thank you to EVERYONE who shopped our 3rd Anniversary Sale!
Wow, 3 years! Hard to believe we are still standing after the pandemic. We opened just a few months before everything in our worlds went sideways. A huge THANK YOU to all of our customers who kept us going, and continue to bless us!
We would not be a part of this community with you!

---
Fall Yarns are starting to come in. Check out what's new and what's coming!





---
Have you seen the newest books in the store?

Knitting the National Park by Nancy Bates and
Salt & Timber by Lindsey Fowler




Knit unique beanies inspired by the jaw-dropping and unique landscapes from each of the 63 US National Parks.


From the brightly colored pebbles of Lake McDonald in Montana's Glacier National Park to the regal granite cliffs of El Capitan and Half Dome in California's Yosemite Valley, the US National Parks contain some of the most recognizable and iconic natural landmarks in the world. Capture the majesty each national park offers with original beanie patterns created by knitting designer and outdoor enthusiast Nancy Bates.

Beanies range from simple beanie constructions to more challenging stitch patterns such as the two-color crossovers inspired by South Dakota's Badlands or the multiple cable designs inspired by New Mexico's Carlsbad Caverns. Clear charts, easy-to-read keys, and thorough instructions help any knitter, whether beginner or experienced, through these gratifying projects. Show your love and appreciation of our national parks with these beautiful and practical beanie projects you can wear any time or any place.


63 KNITTING PATTERNS:
Every US National Park is celebrated with a unique beanie design, including the newly designated park New River Gorge in West Virginia


BEAUTIFULLY PHOTOGRAPHED:
Each pattern is accompanied by photos of the finished beanie and gorgeous images of the park's landscapes that inspired it


INSPIRED BY NATURE
: Learn about each national park's unique fauna, flora, and landscapes that inspired each original beanie, from the Painted Wall in Colorado's Black Canyon of the Gunnison to the Salt Flats in California Death Valley


EASY-TO-FOLLOW INSTRUCTIONS
: Each of the 63 beanies knitting patterns have been tested and verified and offer clear charts so that knitters of every skill level can knit a beanie in no time.
---
Salt & Timber by Lindsey Fowler

Lindsey Fowler's knitwear collection Salt & Timber is inspired by the alluring beauty of the Pacific Northwestern coast. This visually stunning book features 15 cozy designs that are intuitive and easy to knit, providing the perfect transition into fall knitting. The patterns—including socks, shawls, sweaters, hats, mitts, and even a blanket—offer thoughtful details that knitters of all levels will appreciate. Plus, creative opportunities to make the most of your yarn stash and innovative ways to customize the garments to fit your style.
Known for its dramatic rocky coastline and evergreen forests, the Pacific Northwest takes center stage in Salt & Timber's knitting designs. From rich textures to naturally inspired color palettes, this collection will transport you to the Northern Coast from the comfort of your knitting nook.
Featured designer Lindsey Fowler likes working with textures and finding new takes on classics. She is continuously inspired by nature, architecture, and traditional handicrafts. Salt & Timber is Lindsey's debut book and her attention to detail with each and every pattern is evident.
The knitting patterns included in Salt & Timber are: five scarves, four pairs of socks, two cozy hats, one sweater, one cardigan, one pair of fingerless mitts, and one blanket. (Both chart and written instructions are provided for each pattern).
160 pages
15 knitting patterns (5 scarves, 4 socks, 2 hats, 1 sweater, 1 cardigan, 1 pair of fingerless mitts, 1 blanket)
Both charts and written instructions provided;

Hardback; 7.25" x 9.75"
---
KAL's update
Update: Bojagi Shawl KAL ends August 31st.

If you participated in this KAL, stop in with your Finished Project and get your name on a ticket for the prizes!



September KAL: The Love Note


by Tin Can Knits
The Love Note KAL will begin on Saturday, September 10th. Join us in the shop at 10 AM that morning for the cast on party!


Door prizes and coffee will be included!





The Love Note is a boxy crop top with lots of options. You can choose to make it longer so its not cropped, you can do long sleeve, short sleeve, 3/4 length sleeve.
Even the option of yarn. The Love Note can be knit with a fingering weight + a mohair, OR with any DK weight held alone.

This sweet little sweater knits up quickly from the top down. The combination of mohair lace and single-ply merino creates a fabric that is floaty, soft and sensual. With a high-low hemline and two length options, what's not to love?

Join us...we would LOVE to have you knit up The LOVE NOTE with us.
---

Heart2Heart will be hosting two Trunk Shows this month.
Sept. 9-11: Bigfoot Yarns
Sept. 30-Oct. 2: Trilogy Yarns



Bigfoot yarns is a local, indie dyer from the PNW.


She has keen interest in myths and legends and hopes to bring you beautiful yarns with a cryptid twist.



Let's welcome back Trilogy Yarns.
Nancy will be back in late September/early October. She has some new colorways in her arsenal.
---
Heart2Heart Knitting & Fiber Arts
19735 10th Ave. NE S102
Poulsbo, WA 98370
(360) 930-8578

www.heart2heartknittingfiberarts.com