Skip Navigation
Website Accessibility
December 2022/January 2023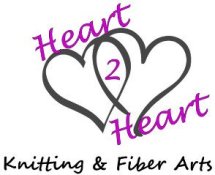 A quick hello to say Merry Christmas!
Everyone here at the shop wishes all of you a very happy and
peaceful holiday season.

We also want to say
THANK YOU

for giving Heart2Heart
such a blessed year!
Without our wonderful customers, Heart2Heart would not be possible.
Be safe, be healthy, and be happy!

Merry Christmas and a very Happy New Year


Lisa, Cindy, & Mary
---

December Holiday Hours:
December 23rd - January 2nd: Closed


Lisa is closing the doors for week so we
can all spend some
time with our families during the holiday season.

See you in the new year!

Heart2Heart will reopen on January 3rd with
normal shop hours.
---

Psst... guess what's coming soon? The January Olive Knits Workshop KAL!
Will you be joining Marie Green & Olive Knits for their January Workshop KAL?
This year Marie has packed you into her suitcase and has taken you with her to Munich (from the comfort of your own home) to learn new techniques, textile history and more.
We'll cast on January 1st! https://www.oliveknits.com/newsletter/ #knitalong #oliveknits

Stop into Heart2Heart or go to our website to get your fiber for the Olive Knits KAL.

https://www.heart2heartknittingfiberarts.com/
---
PLAN YOUR 2023 WITH STYLE! KNITTING PLANNERS ARE NOW 40% OFF THROUGH THE MONTH OF DECEMBER.
THESE PLANNERS ARE AMAZING. THEY HAVE A PLACE TO ORGANIZE NOT ONLY YOUR DAYS, BUT ALSO YOUR NEEDLES, PROJECTS, THOUGHTS, AND EVEN INCLUDES FREE PATTERNS.

THESE PLANNERS MAKE GREAT GIFTS FOR YOUR FAVORITE KNITTER TOO!

USE CODE PLAN23 ON THE WEBSITE https://www.heart2heartknittingfiberarts.com/shop/c/p/2023-Knitters-Planner-x63872527.htm


SUPPLIES ARE LIMITED
---

Western Red Brewery is hosting a
STITCH n B*TCH
Dates are every other Monday beginning January 2nd
6 PM - 8 PM
This a fun couple hours to get out and see other crafters you don't normally get to see!


During the 12/5 gathering, the group decided it would be fun to create blankets as a group to donate as Auction Items to various local charity organizations. Marianna has picked a pattern and will be passing them out at the January 2nd gathering. If you'd like to participate by creating a square for the 1st blanket, please come to the January 2nd gathering
to pick up a pattern.
The "turn in date" for this 1st blanket will be the January 30th gathering.
See you soon!
---
Keep Kitsap Warm
The idea beind Keep Kitsap Warm is to craft cold weather wear to be donated to Fishline & Coffee Oasis, all while keeping the
donations local to Kitsap County.


This idea was born about 2 years ago, when a large snow storm hit and we sat thinking about those who didn't have hats, gloves, mittens and other cold weather wear.




As of today, December 16 we have donated over 152 items, and its only been 46 days since the empty basket hit the floor! That's amazing! The fun kicker is that we supply the yarn, you create the item. The items can be hats, shawls, ponchos, cowls, mittens...whatever you choose to make. You can knit, crochet, weave, loom or whatever you choose to do.
Both adult and children sizes are needed, men and women, boys and girls.
This program runs
November 1st through the end of February each year.
In talking to Fishline today, these items are much loved and wanted by the community who needs them.
A huge thank you to all of the crafters who donate and help make this program a success!
Don't stop crafting!
There is still more to share and time to give!
---
JANUARY 2023
Heart2Heart's next
KNIT A LONG


JOJI LOCATELLI'S BOXY!


That's right...January 17th Heart2Heart will be
hosting our first Knit A Long of 2023.
This KAL comes with a twist!
You get to pick which version of the Boxy you want to knit!
Joji has Five versions:

The Lace & Fade Boxy
The Original Boxy
The Worsted Boxy
The V-Neck Boxy
The Button Boxy

https://www.ravelry.com/bundles/pullovers-and-tunics




Start date is January 17th, 2023. Finish date will be
March 31st, 2023.
Stop in and pick up your fiber, purchase the pattern and get
ready to cast on!

KAL @ Heart2Heart: join us for a cast on party and you get a chance to win one of 3 raffle prizes.
Finished?? Once you finish, we will again celebrate and draw some more fun prizes!!
Join us for a cast on party on January 17th at Sit & Knit starting at 4 PM.
---

Laine Issue 16 is now available


Also new is
MINI POM from Pom Pom magazine. Mini Pom is full of fun, bright kids garments and accessories you are sure to love.

---
Did you know that Heart2Heart now carries Madtosh yarns?
Three weights available:
Madtosh DK
Tosh Merino Light
Madtosh Shibui

Supplies are limited!

---

"Oops" Class

January 14th
11:00 AM - 1:00 PM
Class Cost: $50.00

Top 10 Common Knitting Mistakes most Knitters make are:
Dropped Knit Stitch
Dropped Purl Stitch
Knitting Too Tight
Adding a Yarn Over
Twisting Your Stitches When Purling
Putting Stitches Back on Backwards
Loop Didn't Get Pulled Through
Getting Turned Around
Wrong Gauge Ruins Your Project
Not Blocking Your Finished Work
If you want to learn how to fix these mistakes, this class is for you!
Classes is limited to 4 persons.


Stop in to sign up or sign up online at




https://www.heart2heartknittingfiberarts.com/classes.htm



---
Beginning Knitting
February 4, 11, & 18th
Cost $65.00
(cost includes 3 sessions- 2 hours each day of instruction)
Learn a lifelong skill. In this series of 3 classes you will learn the anatomy of a stitch and how to recognize Knits and Purls, while making a beanie.
Materials needed: S

ize 7 needles and worsted weight wool. 10% off supplies for class members.
You will learn how to:
Hold your yarn and needles
Do the knit stitch
Do the purl stitch
Cast on and bind off
Recognize stitches
Finish your work
Skills required: Absolutely none (this is where you will learn)
Heart2Heart will provide: Pattern
Student to purchase yarn and needles. 10% off when you sign up for the class.
Classes will be limited to 4 persons.

---
Create Socks from Sock Tubes
January 28th & Februray 4th
Cost: $75.00
(cost includes 2 sessions- 2 hours eah day of instruction)
Learn new techniques on how to separate a sock tube to create 2 pairs of beautiful socks.
You will learn how to make a sock from a cranked tube, including how to add a toe, ribbing and steek in a heel.

Knit socks in less time with sock tubes! Purchase a cranked tube or bring your yarn into to have it cranked into one long tube that's ready for you to add afterthought heels, toes, and cuffs.
We can either crank the entire tube or reserve some of the yarn for you to finish your socks. If we crank the full 100gr of sock yarn and you're using contrast yarn for heels, toes, and cuffs, you'll likely be able to get 2 pairs of socks from one tube.
---


Spend a few hours with other crafters and work on your knit, crochet, or needle craft projects. Please bring your own supplies and projects with you. Pleasant company is provided to share ideas and inspiration!
Tuesday's 4-7 pm
Thursday's 11 am - 1 pm
Please note: No formal instruction is provided
---
Heart2Heart Knitting & Fiber Arts
19735 10th Ave. NE S102
Poulsbo, WA 98370
www.heart2heartknittingfiberarts.com



You're receiving this email as the result of opting in to our mailing list in the shop or through the form on our website. We never sell or share customers' information.