Skip Navigation
Website Accessibility
May 2023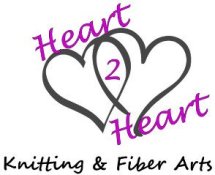 Spring is starting to reveal itself!
It seems that after three winters the sun is starting to sneak out a bit. It is time to get in the gardens and get your hands dirty. Spring cleaning for yards and gardens is here!
Don't forget to take some time for yoursef to re-energize and fill your soul with much needed stitch time, quiet time, time to think and reflect.
Grab your favorite drink, pick your project and really immerse yourself in some quiet, reflective time.
I've always said, each stitch is made with a love. We wouldn't pick up our hooks and needles if we didn't love our craft!
So as you begin a new project, or finish up a work in progress, we wish you many blessings and love added to each stitch.
Happy Spring
Lisa, Cindy & Mary
---
Trilogy Yarns Trunk Show
Nancy is coming back for a visit and will be bringing her "trunk" full of beautiful colors, including her newest colorway from Schitts Creek and may more to choose from.
Stop in and say hello May 5-7th.

---
Shop Closures
We will be closed on Sunday, May 14th in honor of Mother's Day.

In honor of all those who have served
Heart2Heart will be closed on Saturday & Sunday,
May 27th & 28th for Memorial Day.

Use code MAY23 for 25% your entire ONLINE order.
Online sale will end Monday, May29th at midnight.
---

PNW YARN CRAWL
MAY 4-7TH 2023

Travel the world in four days!
SPECIAL SHOP HOURS DURING THE PNW YARN CRAWL
THURSDAY & FRIDAY: 9 AM - 6 PM
SATURDAY: 9 AM - 6 PM
SUNDAY: 10 AM - 5PM
Are you ready for this??
We are so thrilled to bring you the 2023 PNW Yarn Crawl!!
This year our theme is travel! We know the past few years have been a little light on traveling, so we want to treat you to a world of yarn in 4 days!
Here are your destinations...
A Little Knitty - Italy
Allyn Knit Shop & Spinning Supply - USA
Amanda's Art Yarn - France
Ewe & I- Turkey
Fibers Etc - Patagonia
Firwood Farms - Switzerland
Heart2Heart Knitting & Fiber Arts - Peru
Jorstad Creek - Norway
Our Local Yarn Shop - England
Rainy Day Yarns - Nepal
Black Sheep Yarn Boutique - Scotland

Of course all of these shops are along the South Sound, but each will be highlighting a different country and fun animal along your travels.
Grab your passport and get ready to crawl (travel around the world)
May 4th to 7th, 2023!!
Each shop will have free patterns, unique stitch markers for sale, daily give aways, finisher prizes, and more!
All the stuff you have been waiting for.
Crawlers visiting ALL participating shops are considered Finishers.
FINISHERS will receive a Finishing Prize at the last shop visited and an entry into the Grand Prize Drawings.
Entries from ALL shops will be combined. Then...
Each shop will draw a winner to be redeemable at their shop only.
ALL Winners will be posted on the PNW Website and on our Facebook page.
Download your passport here!!
http://pnwyarncrawl.com/Passport.html
http://pnwyarncrawl.com/
---
SPECIAL SHOP HOURS DURING THE LYS YARN TOUR
WEDNESDAY - FRIDAY: 9 AM - 8 PM
SATURDAY & SUNDAY: 10 AM - 6 PM

Join in on the fun. 5 days, 20 shops, free patterns, daily prizes.
There will be THREE Daily Drawing Prizes awarded at each shop on each day of the Tour.
Two $15 gift certificates and the daily
drawing tote full of goodies from each shop.
To be eligible for the daily drawing prizes, just go to each shop and sign up! That's it. Travel to one, or all 20!
Go once, go twice, go as many times as you want.
Sign up each day and be eligible to win!

Let's not forget the Grand Prize drawing!
The prizes this year are as follows:
* 5 x $100 gift certificates
* 3 x $500 gift certificates
* All gift certificates will be awarded for use at a shop of the winner's choice

To be eligible for the Grand Prize, customers must visit

* 12 shops to be eligible for the $100 gift certificate drawings
* 20 shops to be eligible for the $500 gift certificate drawings

https://www.lystour.com/
Click on the LYS Tour home page to print your passport, or pick one up at Heart2Heart Knitting!
---
New Spring yarns now in stock!
Lana Grossa Yarns
Diversa
Celebrate
Gomitolo Meilenweit
Ecopuno Print
Noro
Sonata Shima
Hauito
Akari
Laines du Nord
Cotton Silk Tweed
Landscape
Weave
Katia Concept
Bohemian Silk
Fair Cotton Granny
Polynesia Gradient
---

Coming up in June:
World Wide Knit in Public Day




Wherever you are!
June 10th
Celebrate the passion for knitting with fellow knitters around the world. You can be a beginner or maybe you have been knitting for years – everybody is welcome!
One day every year celebrate World Wide Knit in Public Day.
We knit in public and share each others company – or meet new knitters in your local area.
---
Heart2Heart Tent Sale!
June 10th
The shop will be having it's second annual Tent Clearance Sale.
Help us clean house to make way for the new yarns coming in the fall!


---
Nautilus 1954 is a Washington-based (& growing!) community of knitters and crocheters that have taken the mission to express gratitude and love to our United States Navy Submarine Fleet through handknit and crocheted wool hats. These hats, and small attached notes, are sent to our submarine crews throughout the year. Our hope is to let the men and women of the Submarine Fleet know they are in the hearts and minds of those they are defending.

Yarn and Patterns:
Hats must be handmade from 100% superwash wool. Wool is naturally fire resistant, breathable, stain resistant, and odor resistant. Our submarine sailors will be able to use a regular washer and dryer to clean their hats, so we ask for machine washable wool for their convenience.
No pom-poms please.
There will be a variety of sizes needed and all colors are acceptable. You may use any pattern that you enjoy and sharing free patterns within our group is encouraged.
Colorwork or single color? Simple stitches or texture or cables or stripes? in your favorite weight yarn... All hats will be sent to the fleet to show our appreciation and support.

Mailing Your Hats:
Please securely attach a small note for the submariner that will receive your hat.
(Example: a note of gratitude with your first name and your city/state. Scrap yarn works great for attaching tags!) Please include your email address or phone number, if you would like us to contact you when your package arrives, and mail to:

Nautilus 1954
C/O Tony & Jolene Munoz
PO Box 1652
Silverdale, WA 98383
This is an on-going project and hats can be mailed to us throughout the year. If you would like to send one shipment, please place them in the mail by September 1st, as our primary distribution will be in the fall and winter. We will keep everyone updated as we adopt submarine crews and ship your beautiful hats to them.
---
Spend a few hours with other crafters and work on your knit, crochet, or needle craft projects. Please bring your own supplies and projects with you. Pleasant company is provided to share ideas and inspiration!
Tuesday's 4-7 pm
Thursday's 11 am - 1 pm
Please note: No formal instruction is provided
---
Heart2Heart Knitting & Fiber Arts
19735 10th Ave. NE S102
Poulsbo, WA 98370
Shop Hours:
Monday: Closed
Tuesday: 11 AM - 7 PM
Wednesday - Friday: 10 AM - 5:30 PM
Saturday: 10 AM - 5 PM
Sunday: 11 AM - 4 PM

www.heart2heartknittingfiberarts.com



You're receiving this email as the result of opting in to our mailing list in the shop or through the form on our website. We never sell or share customers' information.